After many months of thinking about posting my collection, I finally found time to dig most of them out, dust em' off and get out the camera.

A few of you have been asking me for sometime about pics, (Lav', G'man and Walkgirl) and now I've done it so now y'all can get off my back!!

I would say I've got a few nice ones, and a bunch of not so rare/special boxes but I've decided to stick pretty much all of em up for you to see anyway. My collection represents about 3 years of collecting, over which time I've never really paid much money for a boombox, just got lucky or searched them out in the wild . . .

So . . . .
Introducing (in no particular order), Kennedy's previously unseen collection!


Hitachi TRK-8290e - Nice feature packed all rounder . . .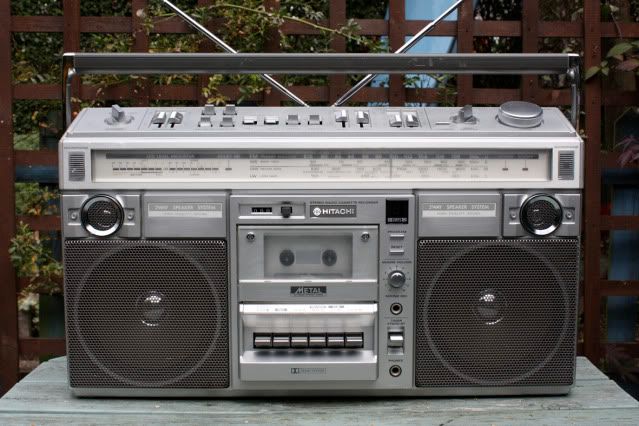 Hitachi TRK-8155e - One of my favourite Hitachi's in minty condition . . .



Hitachi TRK-8080e - Picked this up for a couple of quid a couple of years ago, nice condition and solid build quality . . .



Hitachi TRK-8000e - Nothing special, but man it's heavy for it's size - what did they put in these things!



Hitachi TRK-3D80e - I prefer classic looking boxes but I can't bring myself to part with this one - Awesome sound and near perfect condition . . .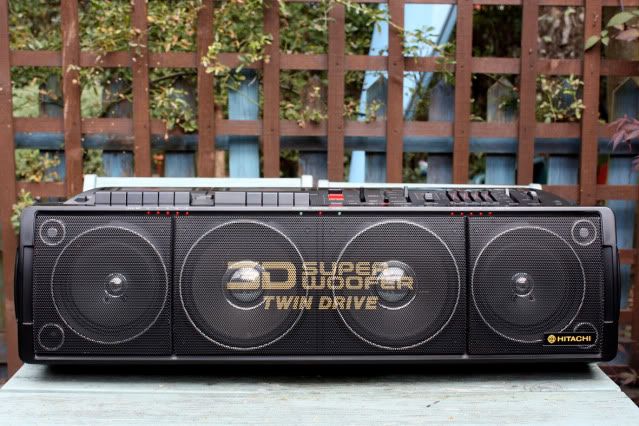 Saisho STR 7070 - As plastic as they come, but for some reason I never get bored of lookin at this cheapy . . .



Fidelity SCR10 - This small/mid size box sounds alright, and I think it looks kinda cool . . .



Panasonic RX-F32L - with removed grills and a few scratches but works and sounds nice for it's size. Would like a mint one if I get the chance . . .



Panasonic RX-4933L - Vertical tuner dial on this is cool



Panasonic RX-5100F - A bit grubby but this box has seen a lot of drunken camping trips. Good solid sound.



JVC RC-656LB - Mint condition, and great sound. Very under-rated box.



JVC PC-3 - HEAVY box, and sound to match. Fully working but the speakers have been replaced, they are now 2 way Alpine speakers . . .



JVC PC-150 - Mint Mint Mint, apart from the dis-coloured speakers this looks like it was made yesterday . . .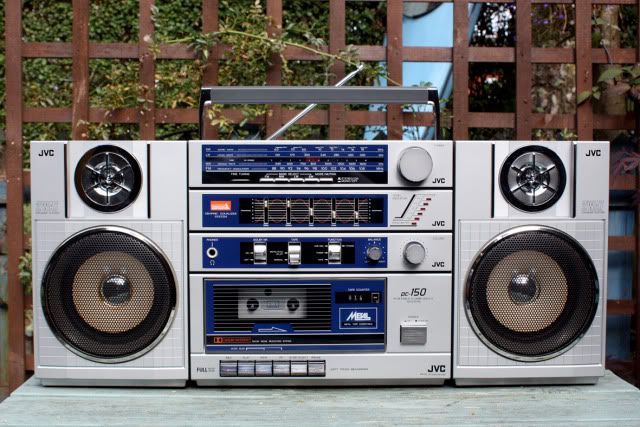 Sanyo M-X315L - Mint condition fully workin . . .



Sanyo M WS400L - Love this even though it's tiny and er . . red, minty condition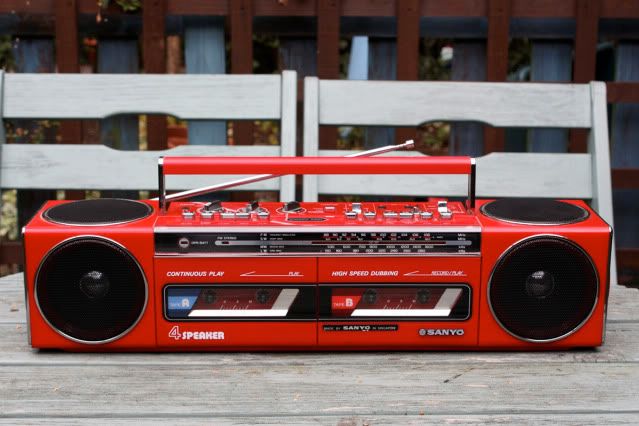 Sanyo M WS700L - Got this Free, not really my thing but it's alright . . .



Sanyo M 4500K - Really like the design of this, in good condition and good sound . . .



Sharp GF-9191 - Love all the GF's and this is one of the best in my collection . . .



Sharp GF-9090 - Or should I say VZ-9090! - this had knackered speakers so I threw in the red cones from a VZ-2000 which are bigger. Sounds okay and I think they suit the box . . .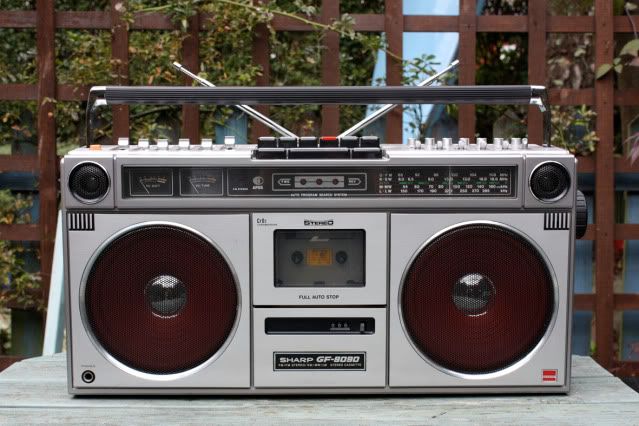 Sharp GF-8989 - Classic looks, and this one is in sweet condition. The buttons and dials are super smooth with no movement, it's barely been used. Sound is spot on . . .



Sharp GF-8989 No.2 - Another nice one, great sound and fully working . . .



Sharp GF-555 - These are under-rated, I got this minty mint one for a tenner and was blown away by the weight and quality, good bass too.



Philips D8714 - I know there's not that many of these around and believe it or not it was my first boombox that I got 3 years ago. I listen to this everyday, it's really great build quality compared to some of the later Philips models . . .



Philips D8444 - Completely mint, great looks, average performance . . .



Philips D8304 'Moving Sound' - I'm missing the strap for this if anyone can help out . .



Philips D8008 roller (2) - Not really my thing but it's cool for what it is. I might stick this up for sale . . .



Ferguson 3T18 - Picked this up 2 weeks ago cheap, I haven't got around to cleaning it yet . . .



Sharp 5p-37G - Huge heavy TV boombox, needs cleaning and a little work . . .




and finally this which clearly isn't a boombox but is a cool system to crank up when it's party time . . .

Sharp VZ-3500 Vertical Record Player System





Cheers for checkin my humble collection out.

KENNEDY